I wanted to share a few pictures of the cake pops I made over the weekend. This is my first attempt at them and I think they turned out really cute.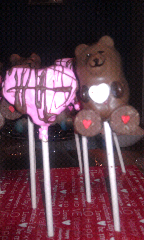 Also, I ran on the treadmill today and was able to run a mile in 14:10. I know this is still slow, but considering I only started a couple of weeks ago I was excited about it. The past couple of times I ran a mile it took 15 minutes so this is a pretty big improvement.
Tomorrow is my next weigh-in. I'm definitely nervous about it, but I'm hoping for the best.